Ancient Past and Vibrant Present
SICILY
3 – 15 September 2018 SOLD OUT
Hosted by Renato Di Stefano
Renato Di Stefano has a passion for his native island of Sicily, Italian food and the romantic Italian language. From an early age, under the guidance of his Nonna, Renato learned the importance of using fresh produce to prepare delicious meals. During regular visits at the Messina markets, he quickly learned how to select choice fresh ingredients using all of the senses. His childhood experience together with the many tips and tricks that he learned while helping nonna prepare the family meals laid the foundations for his love of good food and traditional Italian cooking.
As a TAFE lecturer for many years, Renato introduced the concept of teaching the Italian language and culture through its cuisine by giving students a taste of the broad and varied gastronomy of its regions and was invited to run classes at Phil Hoffmann Travel as part of our 'Lifestyles' Series.
Renato has been hosting tours in Italy since 2002. Whilst his regular and successful "Tuscan Experience" tours continue to delight travellers, Sicily is a natural progression for Renato as he extends his love of Italy and introduces southern Italy.
Renato Di Stefano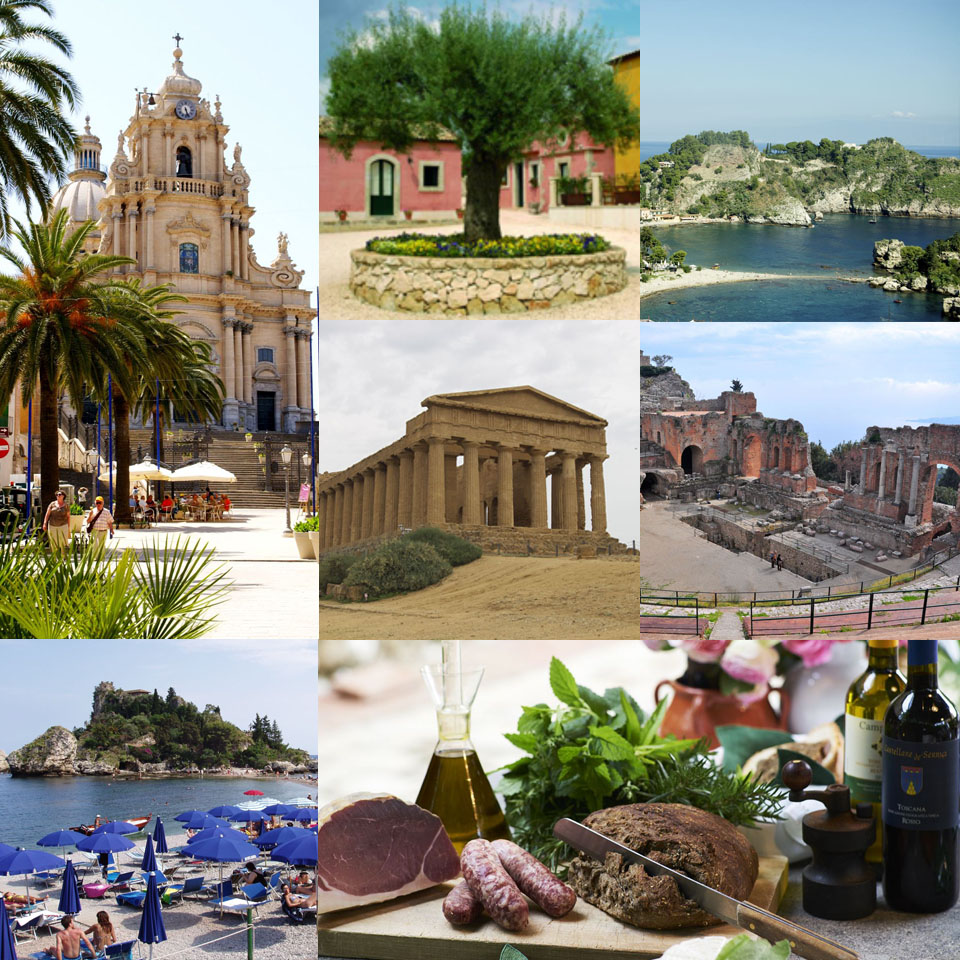 The Setting
Nestling among ancient olive and carob trees in the heart of an area of enormous cultural significance is Borgo Degli Ulivi. This centuries old farmhouse, once owned by the Baron Messina di Bibbia, offers excellent hospitality in an environment of rare beauty. It is situated just a few kilometres from the UNESCO world heritage listed centres of Palazzolo Acreide, Noto, Modica, Ragusa Ibla and from the ancient city of Syracuse with the magical Ortigia, its archaeological sites and the Necroplolis of Pantalica.
Borgo Degli Ulivi estate, the venue for this unique cultural experience, overlooks gentle hills and covers an area of some 50 hectares. It offers self-contained private apartments with all facilities. There is a large central dining and sitting room, under cover veranda for al fresco dining and a very large swimming pool surrounded by beautifully manicured gardens.
Tour Features
Pre departure meet, eat and mingle at Phil Hoffmann Travel Glenelg with some wine and delicious food prepared by Renato.
Hosted from arrival in Catania Day 1, until departure from Catania on day 13
Fully hosted excursions, sightseeing and visits with applicable entry fees as described in the itinerary.
Private transport to hosted excursions as described in the itinerary.
Professional English speaking guides
9 nights twin share accommodation at Borgo Degli Ulivi
1 night twin share accommodation in Agrigento
2 nights twin share accommodation in Taormina
Continental breakfast at Borgo Degli Ulivi
Welcome lunch at Borgo Degli Ulivi on arrival
1 culinary art session for lunch with Renato at Borgo degli Ulivi
Lunch at Azienda degli Aromi in Scicli and Gambino Winery on Mt Etna.
Degustation brunch at Caseificio Mongibella in Buccheri
7 traditional dinners at Borgo Degli Ulivi with limited wines included (additional wines are available for purchase)
Group transfers from Catania airport to Agrigento on arrival and from Taormina to Catania airport on departure.
Maximum 14 guests
Cost
per person, twin share (land only)
$6,550AUD –
Deposit
$2,000 AUD per person upon booking (Non-refundable)
Final payment is due no later than 3 months prior to travel.
FOR BOOKINGS OR FURTHER INFORMATION CONTACT
Emily Tassone at Avanti Italy
Mobile 0400 823 508
etassone@avantiitaly.com
www.avantiitaly.com
TERMS & CONDITIONS
Group cost quoted for this tour is based on a minimum of 10 guests (maximum of 14).
If the minimum number of guests is not reached the tour will be cancelled and deposits will be refunded to those that have paid. Itinerary subject to change.
PAYMENT CONDITIONS
Deposit – Non-refundable $2,000 upon confirmation of the tour
Balance (70% of total amount) 3 months prior to arrival
Cancellation Penalties
From confirmation day to 3 months prior to arrival $2,000 penalty per person
From 3 months prior to arrival day 100% penalty on total amount per person
Enquire now for 2019 tour
Itinerary
DAY 1
Catania / Agrigento (overnight)
Meet at Catania airport at 11am and transfer to Agrigento. Check in at our Hotel and then travel to the Valley of the Temples. See the 5th Century BC Temple of Concordia, the Temple of Giunone and the Temple of Castore and Polluce with its four columns that have become the symbol of the city. Following a group dinner (not included) at a typical restaurant enjoy the beauty of the temples by night.
DAY 2
Borgo Degli Ulivi Estate
Breakfast at the Hotel and transfer to Borgo Degli Ulivi Estate with a brief stop on the way at the coastal town of Punta Secca, location for the hit TV series Inspector Montalbano. Welcome lunch at the Borgo degli Ulivi estate followed by familiarization of the grounds.
Dinner tonight is at the estate. (L, D)
DAY 3
Siracusa
Travel to Siracusa, the most important city of Magna Grecia. Visit the archaeological park with its ancient Greek Theatre, Roman Amphitheatre and the Paradise Quarry with the ear of Diogenes, famous for its acoustic effects. After free time for lunch, visit the Temple of Apollo, Piazza Archimede, Piazza Duomo and the Aretusa fountain.The remainder of the afternoon is at leisure with a group dinner (not included) at a typical restaurant. (B)
DAY 4
Buccheri
Late morning visit to the Caseificio Mongibella in Buccheri. This small boutique cheese factory is 1,000 metres above sea level and boasts panoramic views of Mt Etna. Enjoy a degustation of some fine cheeses, sausage and local wine followed by a brief stop in Buccheri before returning to Borgo degli Ulivi.
Dinner is at the estate.(B, D)
DAY 5
Ragusa and Modica
Visit the beautiful city of Ragusa Ibla with its narrow streets, steep staircases and crowded houses. Walk to the churches of San Giacomo, San Giuseppe, San Giorgio and the noble palaces of Arezzo, La Rocca and Cosentino. In the afternoon visit Modica where it is said that the theatre is the city itself. After some free time for lunch (not included) see the famous church of San Giorgio and the palaces of Polara, Russo, Iacono, Trombadore and Grimaldi. Visit the oldest chocolate factory in Sicily and savour the unique and traditional chocolate for which Modica is famous. Return to Borgo Degli Ulivi for dinner. (B, D)
DAY 6
Palazzolo Acreide
Morning is at leisure followed by a culinary art session with Renato. After a brief interlude to sample a glass (or two) of wine, indulge in the fruits of our labour at lunch. In the afternoon, visit the beautiful Baroque town of Palazzolo Acreide. Stroll through the lovely old town and sample some of the local sweet delicacies.
Dinner (not included) is at a typical restaurant. (B, L)
DAY 7
Scicli
Travel to Scicli, a monumental baroque city with elegant 18th Century buildings. Take a sensory-guided tour of the herbal gardens at the Azienda Degli Aromi followed by a delicious lunch. Dinner is at the estate (B, L, D)
DAY 8
Piazza Armerina and Caltagirone
Travel to Piazza Armerina, an archeological work of art to visit the Villa del Casale. This ancient Roman villa is a grandiose structure and is particularly famous for the spectacular mosaic floors that are a truly rare and singular masterpiece. Visit Caltagirone, the ceramic capital of Sicily. Free time for lunch (not included) and then discover the infinite shapes of Calatine ceramics in the artisan workshops that line the streets. Return to Borgo Degli Ulivi for dinner. (B, D)
DAY 9
Noto
Visit Noto, a city built in the baroque style. Discover the beautiful churches of Santa Chiara, Santo Salvatore, the Cathedral, Santo Carlo and the splendid palaces of the aristocracy. Enjoy a guided visit of Palazzo Nicolaci, a beautiful example of 17th Century Baroque architecture. Free time for lunch (not included) then transfer to Marzamemi, an enchanting 17th Century fishing village on the southern point of Sicily. Return to the Estate for dinner. (B, D)
DAY 10
Pantalica
Visit Pantalica, the largest necropolis of Sicily with over 6,000 tombs, dating back to the native Siculi circa 1300 BC. Enjoy a picnic lunch before returning to the Estate to rest and pack before dinner. (B, L, D)
DAY 11
Mt Etna and Taormina
We farewell Borgo Degli Ulivi this morning and head towards the top of Mt Etna, the highest and most active volcano in Europe, which rises to a height of 3300 metres. Visit the Gambino winery on Mt Etna for a degustation lunch with some excellent wines. Proceed to the magical city of Taormina, renowned for the beauty of its monuments, elegant buildings and gardens and most importantly for the magnificent Greek theatre.
Check in to our Hotel with the remainder of the day at leisure. (B, L)
DAY 12
Taormina
A morning tour of Taormina concludes with a visit of the magnificent Greek theatre where you can enjoy spectacular coastal views and Mt. Etna. The remainder of the day is at leisure to just meander through the beautiful city. Perhaps join Renato for a farewell group dinner (not included) at one of the many fine restaurants. (B)
DAY 13
Farewell Sicily
Farewell Sicily today with a 9:00 am transfer to Catania airport (B)
Arrivederci e buon viaggio!