Renato Di Stefano has a passion for Italy, Italian food and the romantic Italian language. From an early age, under the guidance of his Nonna, Renato learned the importance of using fresh produce to prepare delicious meals. During regular market visits, he quickly learned how to select choice fresh ingredients using all of the senses. His childhood experience together with the many tips and tricks that he learned while helping nonna prepare the family meals laid the foundations for his love of good food and traditional Italian cooking.
As a TAFE lecturer for many years, Renato introduced the concept of teaching the Italian language and culture through its cuisine by giving students a small taste of the broad and varied gastronomy of its regions and he was invited to run classes at Phil Hoffmann Travel as part of our 'Lifestyles' Series.
Renato has been hosting tours in Tuscany since 2002. His "Tuscan Experience" sees guests staying in a 15th century villa inclusive of meals with wine, excursions with entry fees, wine tasting, culinary art sessions and hidden extras.
Renato Di Stefano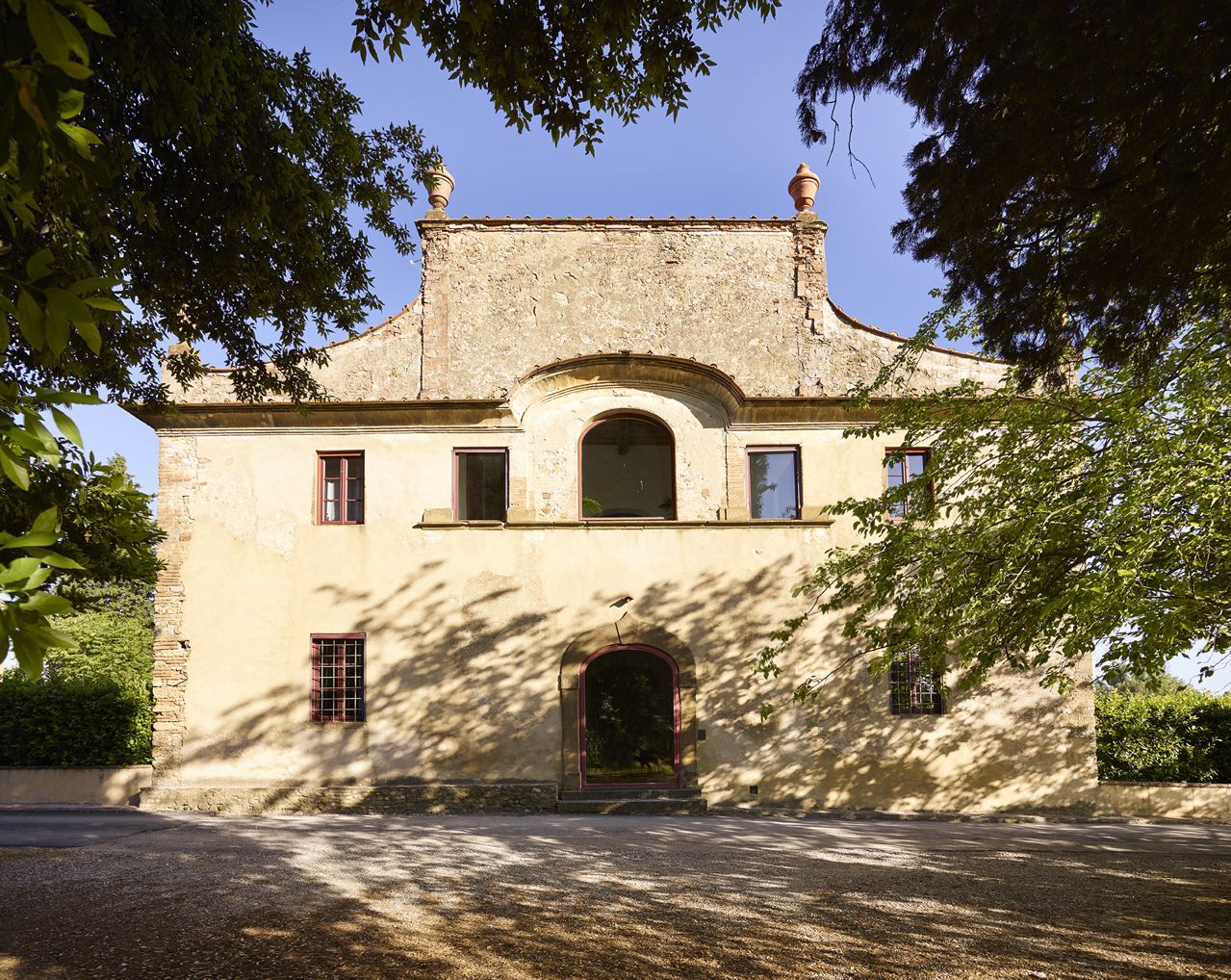 The Setting
Nestled in the Chianti hills, overlooking valleys rich in history, is Castellare de' Sernigi. This ancient manor house, once owned by the Sernigi family who were rich merchants and patrons of the arts in the 15th Century, is situated south of Florence in the thousand year-old hamlet of Palazzuolo. Its location, in the heart of Tuscany, is rich in history with many Renaissance cities and towns nearby, including Florence, Siena, San Gimignano, Volterra, Pienza and Montalcino.
The villa, which has been lovingly restored to its former glory by the Corti family, is the venue for this unique experience. Furnished with antique furniture, the villa offers 7 bedrooms, each with en-suite facilities. There are two large upstairs sitting rooms with picturesque views, a spacious dining and living room, a well-equipped kitchen and a cellar.
The villa has a large swimming pool and is surrounded by olive trees, rose bushes and Mediterranean herbs.
Tour Features
Pre departure meet, eat and mingle at Phil Hoffmann Travel Glenelg with some wine and delicious food prepared in front of you by Renato.
Hosted from arrival in Florence Day 1, until departure from Florence on day 15
Fully escorted excursions, sightseeing, and visits with applicable entry fees as per itinerary.
Private transport for hosted excursions plus train services and or boat trips as per itinerary.
Professional guides in Florence, Siena, Pienza and Montalcino
13 nights accommodation at villa Castellare de' Sernigi
1 night accommodation in Le Cinque Terre at Pensione Sorriso, Vernazza
Provision for self-service breakfast and light lunches at villa as per itinerary.
Welcome lunch at villa on arrival.
10 traditional dinners at villa, prepared by local cook, with limited wines included (additional wines are available for purchase)
Culinary art sessions (optional) including fresh pasta making
Group transfers from Florence Railway station to the villa on Day 1 and from the villa to the Florence Railway station on Day 15
Maximum 14 guests
Cost
per person, twin share (land only)
$7,450AUD –
Deposit
$2,000 AUD per person upon booking (Non-refundable)
Final payment is due no later than 3 months prior to travel.
FOR BOOKINGS OR FURTHER INFORMATION CONTACT
Emily Tassone at Avanti Italy
Mobile 0400 823 508
etassone@avantiitaly.com
www.avantiitaly.com
TERMS & CONDITIONS
Group cost quoted for this tour is based on a minimum of 10 guests (maximum of 14).
If the minimum number of guests is not reached the tour will be cancelled and deposits will be refunded to those that have paid. Itinerary subject to change.
PAYMENT CONDITIONS
Deposit – Non-refundable $2,000 upon confirmation of the tour
Balance (70% of total amount) 3 months prior to arrival
Cancellation Penalties
From confirmation day to 3 months prior to arrival $2,000 penalty per person
From 3 months prior to arrival day 100% penalty on total amount per person
Enquire now for 2017 tour
Itinerary
DAY 1
Florence
Meet at the Florence SMN train station at 1:00pm for a group transfer to villa Castellare de' Sernigi. Enjoy a delicious welcome lunch at the villa prepared by a local cook. In the afternoon join Renato for a familiarization tour of the estate and some relaxation time until sunset. Tonight enjoy a light dinner at the villa. (L, D)
DAY 2
Tavarnelle Val di Pesa
After breakfast walk to Tavarnelle for a caffe` and a freshly baked pastry. Discover the town and mingle with the locals. Join Renato in the kitchen as he prepares a delicious lunch and enjoy the remainder of the afternoon at your leisure. Dinner (not included) is at a local restaurant. (B, L)
DAY 3
San Gimignano and Volterra
Visit San Gimignano, one of Europe's best-preserved hill top medieval towns with its towers that dominate the Val d'Elsa. Continue to the other medieval town of Volterra, famous for it alabaster. It holds an Etruscan museum and an archaeological park with a Roman theatre. Return to the villa for dinner (B, D)
DAY 4
Castellare de' Sernigi
Enjoy a day at leisure. Perhaps take a walk to admire the beautiful Chianti landscape. Take part in a culinary art session with Renato and help prepare lunch. After indulging in the fruits of our labour with some wine we visit the convent and church of Santa Maria del Carmine al Morrocco founded in 1459 by Niccoló Sernigi, the then owner of Villa Castellare de Sernigi. In the evening enjoy dinner at the villa. (B, L, D)
DAY 5
Florence
Today we head to the heart of Florence in Piazza Della Repubblica for a caffé at bar Gilli. Stoll through Piazza Della Signoria and on to the Galleria Degli Uffizzi for a guided tour of works of the great Renaissance masters. Then visit the Basilica of Santa Croce, the largest Franciscan church in the world, which boasts frescoes by Giotto. Dinner is at the villa. (B, D)
DAY 6
Tavarnelle
This morning walk to Tavarnelle and meander through the atmospheric open market in the piazza. Lunch is at a local Taverna (not included) and the afternoon is at leisure. Dinner is at the villa. (B, D)
DAY 7
Vernazza, Le Cinque Terre
After an early morning breakfast we transfer to La Spezia to explore the wonders of Le Cinque Terre. Take a boat trip (weather permitting) or a train trip to Vernazza for an overnight stay. In the afternoon why not take the local train to Rio Maggiore, walk the Via dell'Amore then visit Manarola and Corniglia before returning to Vernazza. Perhaps join Renato for dinner (not included) at a seaside restaurant, then a nightcap at the Blue Marlin bar before retiring. (B)
DAY 8
Lucca and Pisa
After breakfast at our Pensione we transfer to La spezia and travel to Lucca, a medieval treasure trove surrounded by imposing Renaissance walls and beautiful gardens and the birthplace of composer Giacomo Puccini. Continue to Pisa to see the Piazza Del Duomo with the famous leaning tower. Return to villa Castellare de' Sernigi for dinner. (B, D)
DAY 9
Castellare de' Sernigi
Enjoy free time to take a stroll to Tavarnelle or just spend the morning relaxing at the villa. Visit the newly built state of the art Antinory winery for a degustation of some fine wines and lunch (not included). Dinner this evening is at a pizzeria to sample some delicious wood oven pizza and Italian beer. (B, D)
DAY 10
Montepulciano, Pienza and Montalcino
After breakfast we head off to the hilltop medieval and Renaissance town of Montepulciano, famous for its vino nobile then on to Pienza the 15th Century Renaissance town of Pius II and capital of Pecorino cheese. Wine tasting and lunch is at a boutique Brunello winery and finally we discover the beautiful medieval town of Montalcino, famous for it's Brunello di Montalcino wine. Return to the villa for dinner. (B, L, D)
DAY 11
Barberino
Walk to the nearby Medieval town of Barberino. Enjoy a light lunch (not included) then return to Tavarnelle for a gelato. Culinary art session for dinner at the villa with Renato and our resident cook. (B, D)
DAY 12
Florence
Travel to Florence with a brief stop en-route for a breathtaking panoramic view of the city. Enjoy a guided visit of the Galleria dell'Accademia to marvel at Michelangelo's "David" and his unfinished works. Then visit the Bargello Museum to see magnificent Renaissance sculptures and masterpieces. Return to the villa for an aperitivo followed by dinner. (B, D)
DAY 13
Shopping at the Tavarnelle market
Walk to Tavarnelle and stroll through the open market square. Select our ingredients to prepare a delicious lunch at the villa. Hands on culinary art session with Renato and the afternoon at leisure. Dinner out tonight (not included) at a local restaurant. (B, L)
DAY 14
Siena
Transfer to Siena, the host city to the famous Palio and home to the Monte dei Paschi di Siena bank, the world's oldest bank. Meet our guide and visit the Duomo with its spectacular marble floors and ancient Cripta below. Return to the villa with a brief stop in the beautifully preserved medieval village of Monteriggioni. Farewell dinner at the villa. (B, D)
DAY 15
Farewell and transfer to Florence
Farewell Castellare de' Sernigi today with a 9:00 am transfer to the Florence train station (B)
Arrivederci e buon viaggio!